---
Epsom Mental Health and Well-Being Festival
We are all in this together
9th – 16th October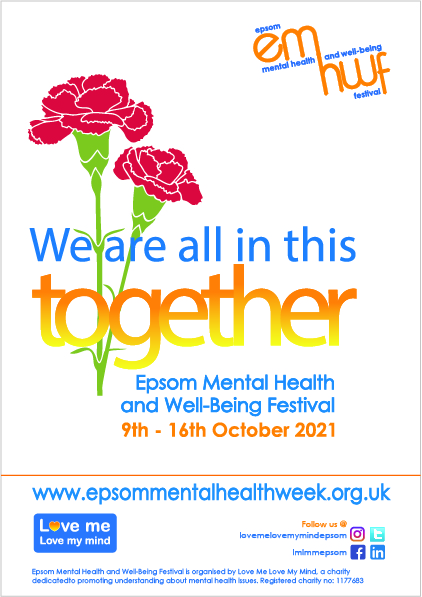 Watch the Festival LIVE on Zoom
Or follow this link:
https://us02web.zoom.us/j/85426757063
If you have missed a session…
We hope to have the Zoom videos available soon after the festival.
---
Todays Programme
Saturday 16th
The power of creation.
9.00am-9.30am A time of stillness at the beginning of the day.

10.00am Leaving St Barnabas' Church for a countryside walk via
Horton Country Park and the Hogsmill River, with the opportunity to
enjoy the beauty of the autumn colours. Led by Allen Price. The
ground underfoot could be a bit muddy in places and the weather
unpredictable, so please wear sensible shoes, bring a bottle of water
and check the forecast before leaving home.

10.00am -11.00am I'm not enough and I'm not suffering like other
people. Find out how Mindful Self-Compassion can help ease your
suffering and relieve your painful thoughts.
Join Kathryn Lovewell Founder of Kind Mind Academy and author
of The Little Book of Self-Compassion and the children's book The
Voices in my Head.

1.00pm Lunch.

2.30pm – 4.30pm Theatre workshop for the Guides.
Facilitated by Eleanor Hill.
*At The Old Moat Garden Centre & Cafe, Horton Lane, Epsom KT19 8PQ

10.00am-4.00pm Gardening is Good for your Mind.

On the final day of the Festival, we will be running an all-day drop-in
session exploring the benefits of gardening for your mental health
and wellbeing, benefits which have been well recognised and
documented through the pandemic. Do drop in any time between
10am and 4pm, follow the signs and see what we have to offer,
browse our literature and chat with our team. Free tea and coffee
available.
---
Please note
Changes to the week

Friday 15th Oct
Lunch with Rabbi Danny Rich
Replacing MP, Chris Grayling.


3.00pm-4.00pm
A Sing Along with Aisling
Replacing Drumming workshop with Ray
---
The Great Beard Shave
Monday 25 October 2021
4.30pm

At:
St Barnabas' Church,Temple Road, Epsom
KT19 8HA.
All donations and sponsorship to support Love Me Love My Mind.
---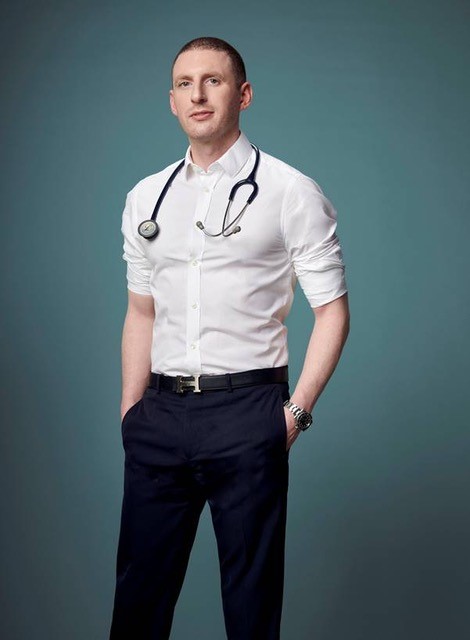 Welcome to Love Me, Love My Mind.
We are a small, grassroots charity based in Epsom, Surrey, that was started to promote better understanding of mental health and to support the wellbeing of everyone in the local community. The charity runs a weekly drop in and Let's Talk Epsom. It also organises the Epsom Mental Health and Well-Being Festival, an annual week-long event which brings people together, regardless of their background, to understand one another, to celebrate each of us, to learn and laugh and offer support and love.

We might not have the big budgets of some of the national charities, but what we lack in funds we make up for in passion. If you'd like to know more, come to an event or offer your help or support then do get in touch – we'd love to hear from you.
---

Support Love Me – Love My Mind
Love Me Love My Mind is now set up to receive donations via the Amazon Smile campaign. Please help us by shopping.
Amazon will donate to Love Me Love My Mind, at no cost to you.

All Prime members who shop using AmazonSmile during Prime Day (21 & 22 June) will generate double donations on all eligible purchases.
How does AmazonSmile work?
When first visiting the site, customers are prompted to select a charitable organisation.
Amazon will give 0.5% of the net purchase price (excluding VAT and other shipping fees) of eligible AmazonSmile purchases to the charitable organisations selected by customers.
Love Me Love My Mind Amazon link is:
https://smile.amazon.co.uk/ch/1177683-0
---
Life in Lockdown 2020
In March 2020 the Monday drop in met for the last time before Lockdown. We agreed that we would keep in touch by a weekly newsletter. This was good, but something more was needed to help pass the days and the weeks and the months… And so the idea of a 'Life in Lockdown' book came into being. It was an opportunity for everyone in the group to create something good and permanent from a challenging time.
The book tells the Lockdown stories of those who felt able to take part.
You can view the book by opening on the following link.

View the book

PDF file size is 11MB
---
Monday Drop-In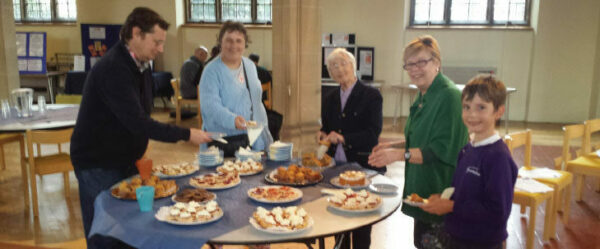 The Monday drop in last met together as a group on 16 March 2020. Since then, we have stayed in touch via a weekly newsletter which often contains an activity and always holds an edible treat.

During the year, the group has produced a book – Life in Lockdown – and a calendar for 2021. We are looking forward to the time when we shall be able to meet together. Until then, we are planning to create another book and the newsletters will continue. If you would like to receive a copy of the weekly newsletter, please ring 01372 721518, email info@lovemelovemymind.org.uk or write to Sue at LMLMM, St Barnabas Church, Temple Road, Epsom KT19 8HA.
You will be very welcome indeed.
Let's Talk Epsom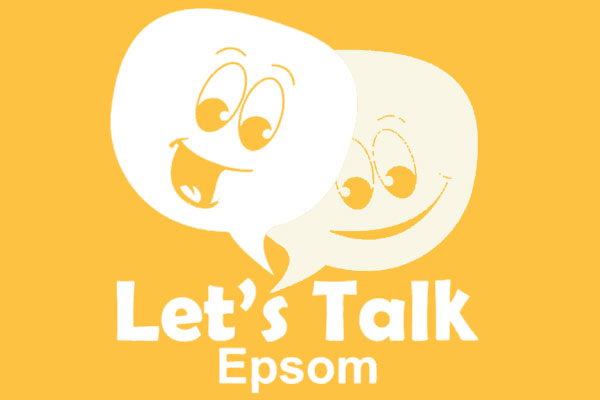 We are now pleased to announce that our peer support session Let's Talk Epsom will be meeting in person again following our hiatus in line with COVID-19 restrictions.
Starting from Wednesday 7th July, the sessions will be held at a new venue:
Epsom Methodist Church close to the town centre.
They will run every Wednesday from 7pm-9pm, and all are welcome to attend.
It has been a challenging year for us all in varying degrees, so we are keen to lend an ear again to support the difficulties that the pandemic and lockdowns have brought.
The sessions will adhere to medical guidelines for health and safety, so volunteers and attendees are required to wear facemasks indoors.
Please note that to comply with the Test and Trace Policy, we will be required to record names and contact details.
Please do not hesitate to contact the group for support or signposting to resources.
Email: letstalkepsom@btinternet.com
Newsletter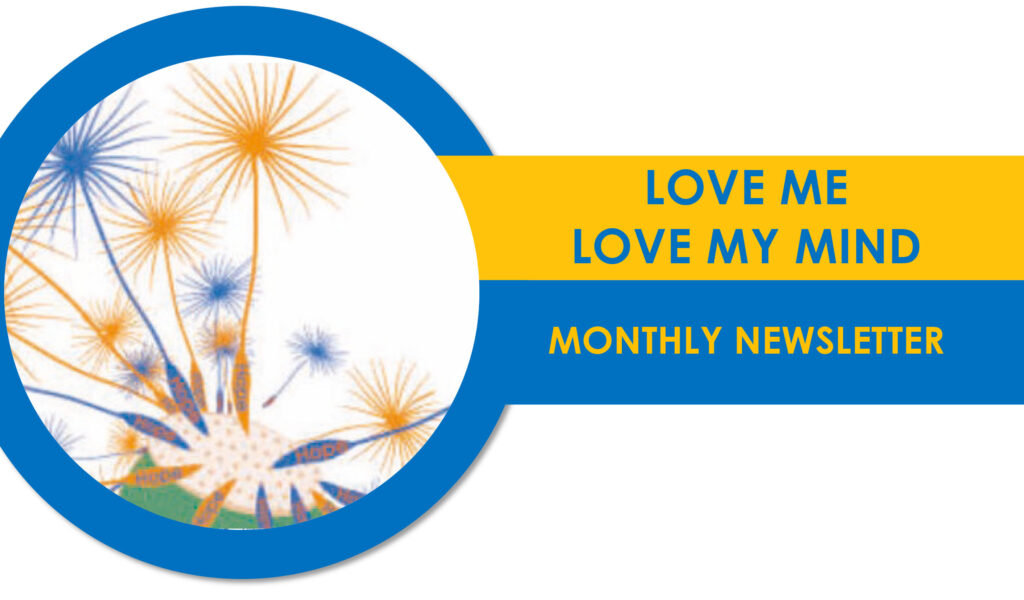 Download this months Newsletter:

APRIL 2021
---
Our Lovely Supporters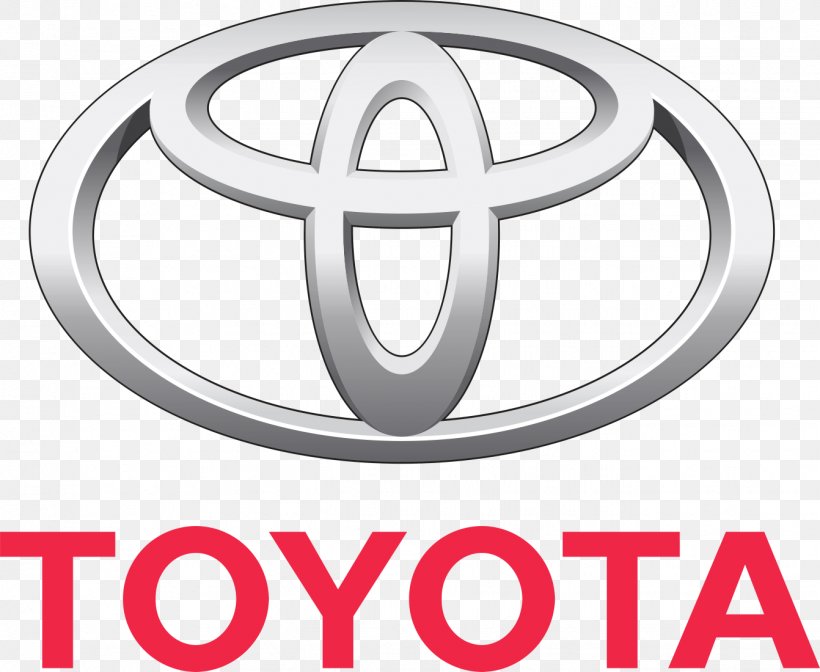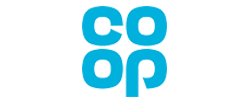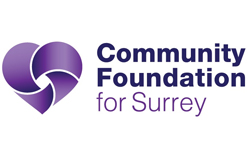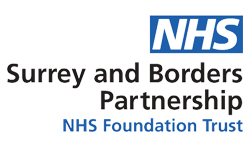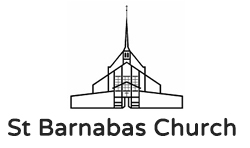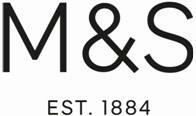 ---